If you have a robot cell with multiple robots, purchasing a teach pendant (TP) for each robot can get expensive quickly. As the name implies, the TP is used for teaching the robot or manually moving the robot. This does not need to be done very often, and it will rarely need to be done on more than one robot at a time.
Motion Controls Robotics suggests to their customers that they purchase one teach pendant for the floor and one to keep safely on a shelf.  That way there is a backup or spare pendant at all times in case the need arises, but no additional unnecessary expense related to robot automation. TPs can get dropped and damaged because of the nature of the floor environment.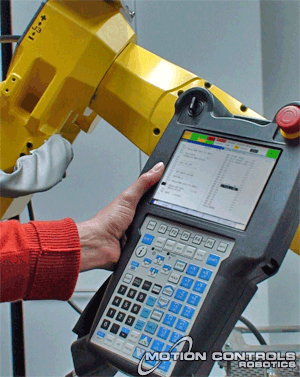 FANUC has a variety of modestly priced options that make removing the teach pendant from the robot easier.
Teach pendant removal kit – this has a special disconnect on the front door of the cabinet
Jumper plug – this is used on the internal connection of the TP
Shared TP software – allows the capability to share one iPendant by logging in to the robot you want to control.
The last option allows for the most flexibility in robot cells with multiple robots (robots that are clustered together). Disconnecting and moving the TP to another location can be inconvenient in many cases, as it is common for TP cables to be run in/around machines to provide better access for the operator.
For example, your robot cell is configured using 6 FANUC robots.  Customers typically would purchase 6 TPs, one per robot.  Using the FANUC tools and software you would be able to purchase just 2 TPs. This could save you as much as 60% on your total TP cost.
Motion Controls Robotics is celebrating their 20th year transforming processes in the manufacturing environment. If you would like more information about how automation can improve your process, Motion Controls Robotics has the experience to help. Use our robotics request for information form to ask any automation/robotics questions you may have.