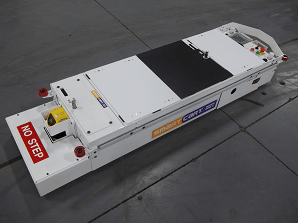 The Model 100 SmartCart Automatic Guided Cart (AGC) is a flexible, rugged, highly functional material handling vehicle that follows a magnetic strip on the floor.  These carts have been used as assembly platforms, and to haul engines and other large or smaller subassemblies from kitting areas to the assembly line in automobile plants.  They have been used to move waste dunnage from kitting and breakdown areas to waste compactor.  They can be used to tow trailers, move picking or part delivery racks, and perform a wide variety of other tasks in assembly, packaging and distribution operations.
DaifukuWebb, manufacturer of the product hardware and operating software, has made favorable product rating changes for the SmartCart Model 100TT, 100ST and reversing models of the Model 100.
Product Rating Change – 100TT
The 100TT, or "tunnel type" Product Specification has been modified to include two new maximum ratings.
1950 pounds @ 100 FPM
1050 pounds @ 160 FPM
Between these ratings there is a relatively straight line limit with respect to speed.
These carts commonly travel underneath a rack, secure the rack with a pin, deliver the rack to a specified destination, retract the towing pin and leave the rack to be emptied or replenished.
Product Rating Change – 100ST
While the wheel loading, or carrying capacity of the 100ST remains unchanged, the towing rating noted on the 100ST product has been changed to match the 100TT.
100TT/ST Reverse Travel Rating
For applications where an AGC travels backward with the load handling frame, or LHF, there is a new rating on both 100TT and 100ST carts that reduces the above capacities by 10%.
For more information about the SmartCart Model 100 Automatic Guided Cart and the higher capacity Model 300, and to learn how these carts can be used in your facility as assembly platforms, to reduce material handling labor costs, improve reliability and repeatability of your processes and drive savings to your bottom line, contact Motion Controls Robotics at 419.334.5886.
Motion Controls Robotics, based in Fremont, OH is a Value Added Reseller (VAR) of the SmartCart Automatic Guided Cart product.