Continual advances in vision options fuel improvements in manufacturing automation and quality. The Fanuc iRVision tracking system is designed for easy integration with any robotic or automation application. Vision systems are used in almost every automation process for managing part location, inspection, and tracking/bar-coding purposes.
Basic Machine Vision Hardware can be broken down into (4) categories: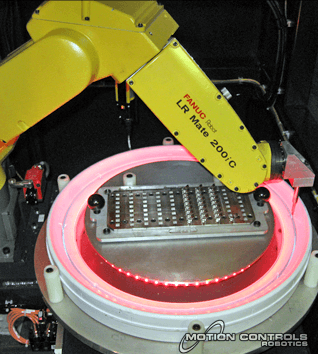 Whether the application is for palletizing, case packing, material handling, or roll handling, careful consideration to these categories must be taken to provide a robust and cost effective vision process.
Issues to consider when selecting components:
What performance does the system need in order to be considered an acceptable solution?
What is an acceptable cycle time for the total process?
What is an acceptable level of false rejects – since no process is perfect?
What are the acceptance testing guidelines based on predetermined statistics?
Finally, be sure to document all standards prior to making your final decision. Over the next few weeks MCRI will be helping you to explore each category of Basic Machine Vision Hardware. Next week we will do a deep dive into machine vision lighting needs for your automation system. If you would like to learn more about Basic Machine Vision Hardware, contact our sales group.