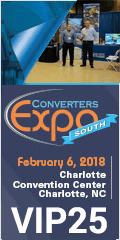 Motion Controls Robotics to Exhibit at the 1st Annual Converters Expo South in Charlotte, North Carolina
Fremont, Ohio – Motion Controls Robotics, a leading provider of custom robotic integration solutions with 24/7 service & support, will be exhibiting at Table #39 at the 2018 Converters Expo South. The Converters Expo South will be held in the Charlotte Convention Center in Charlotte, North Carolina on Tuesday, February 6, 2018 from 9:30 a.m. – 3:30 p.m.
Motion Controls Robotics is excited to be joining this debut event of the Converters Expo South. The southeastern United States, much like the Green Bay area, is home to a variety of converting companies. The Converters Expo has become a leading show for the converting industry by bringing together hundreds of companies specifically focusing on innovative solutions for the converting and packaging industry.
Motion Controls Robotics provides automation solutions to the paper, film, foil, and nonwovens industries for a variety of applications including:
| | |
| --- | --- |
| Roll Handling | Roll Labeling |
| Roll Wrapping & Bagging | Shaft & Core Handling |
| Material Handling | Palletizing |
| Vision-guided systems | Automated Guided Carts |
Adding robotics to your process means you don't have to sacrifice anything. With robotics, you can maximize productivity, maintain a quality product with NO damage, and improve worker safety. As a FANUC level 4 certified servicing integrator, Motion Controls Robotics brings flexibility to the industry through the ability to lift and transfer small rolls up to master/parent rolls.
Stop by Table #39 to discuss robotic roll handling applications and view videos of roll handling systems Motion Controls Robotics has designed and integrated for companies in the converting industry.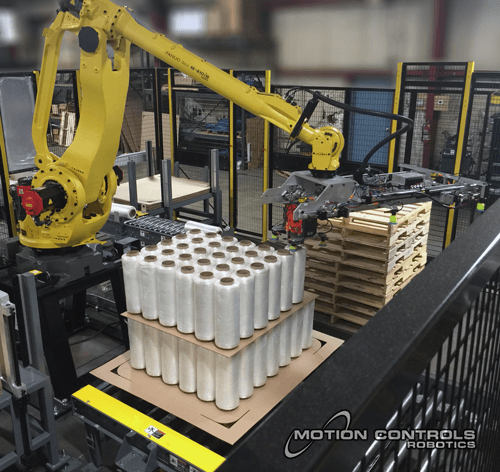 Register to attend Converters Expo South before the end of the year to get the early bird pricing of $45. Registration after this time increases to $65. The price includes a full lunch buffet and 2 complimentary drink tickets for the Happy Hour Event.
The Happy Hour Event runs from 1:30 -3:30 pm in the Richardson Ballroom. This event provides a chance to network and discuss industry issues. Motion Controls Robotics' Director of Sales & Marketing, James Skelding will be in attendance and ready to discuss Robotic Roll Handling applications.
Register to visit Converters Expo South for just $25 using our special discount code of VIP25 (good until December 15th). Then stop by Table #39 at the Converters Expo South – To set up an advanced meeting to discuss specific robotic roll handling with a Motion Controls Robotics Sales Contact during the Converters Expo, contact James Skelding or Paul Getten at (419) 334-5886 or through the online contact form.
Motion Controls Robotics will also be attending Converters Expo in Green Bay, WI in April. Register here if this is your preferred conference.

Learn more about roll handling application with these videos