Central Palletizing Solutions for Your Facility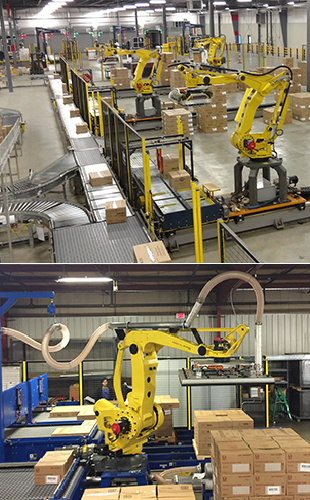 Central palletizing combines two or more lines by automating the transport of all products to one convenient location for robotic palletizing. This creates greater efficiency for the overall transport of product and needs fewer employees to oversee the operations. Another benefit of centralizing your palletizing operations is the sharing/optimization of equipment such as robots and wrappers.
Central palletizing saves net floor space freeing up valuable room for other operations. Another benefit is decreasing forklift traffic which increases overall facility safety.
Scenarios to look for in your facility to see if you should implement a central palletizing solution to improve operational efficiency
Having trouble finding labor for your palletizing operation(s)?
Is your palletizing being done in random multiple locations throughout your plant, tucked into hard to reach places, with forklifts and pallet jacks causing traffic congestion while moving packaging materials and finished pallets in different directions?
Are you running a multiple shift operation?
Are you shipping out multiple pallets per day from your facility?
Central palletizing systems have allowed customers to see:
improvements in the quality of work

✓

improved ergonomics for employees

✓

a robust and reliable system for palletizing

✓
Central palletizing systems are highly configurable and flexible allowing for palletizing different lines with different size products.
high throughput, low sku environment

✓

lower throughput operation with high sku count

✓

high throughput and high sku environment

✓
A variety of other automation can be added to the Central Palletizing location to further improve your project's return on investment.
---

Use of M-Cars/AGVs for moving product through facility
Remote production areas connected to central palletizing by overhead conveyor
Elevated conveyors to an overhead level
Barcode reading for directing, tracking, and tracing
Automated box erecting
Case sealing with tape or glue
Case and or tape Inspection
Automated case and pallet labeling
Centralized stretch wrappers
Comparing Different Options for Central Palletizing
---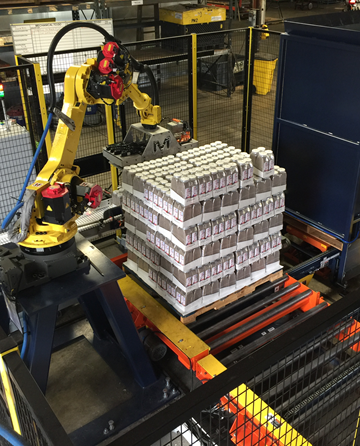 Keep it simple with four single cells:
---
Pros
Simple modular design
Less expensive end of arm tool for individual or row handling
Easily scalable
Each new robot is less expensive than four line palletizer
Cons
Larger footprint for same number of SKUs
Higher number of robots for same # SKU's, more maintenance
Throughput per SKU limited by robot
Each new robot allows two SKUs
One robot palletizes four lines:
---
Pros
Up to four SKUs per Robot
Higher case rates per robot
Fewer robots, less maintenance
Smaller footprint for same number of SKUs
Each new robot handles four SKU's
Higher SKU count
Cons
More custom design
More expensive end of arm tool for full layer handling
Requires layer building on case infeed, prior to robot pick
Throughput per SKU limited by build table
One robot using a rail:
---
Pros
Rail is ideal for a combination of high SKU count and slower throughput per SKU.
Cons
If you would you like to see how connecting your production/case filling operations to a new central palletizing area with an appropriate combination of case transport conveyor and Automatic Guided Vehicles can drive cost savings to your bottom line, improve plant safety, and improve plant floor space utilization, drop us a quick note. We can stop by your facility to take a look at your process.