Robotic Palletizer System
"In the old days", manual palletizing required lifting and stacking cases/product which was stressing on the body, inefficient and just slow. So conventional automated palletizers were developed and have been around since the late 1940s. Robotic palletizers became an option to manufactures all the way back in the 1980s, but they have not been mainstream until the new millennium. This article will explain what a robotic palletizer can offer a manufacturer looking to improve flexibility and take up less floor space.

The robotic palletizer shown here contains these features:
Palletizing robot with custom EOAT – The FANUC M410 is a series of reliable palletizing robots for different weight requirements. The M410/140 was chosen for this project because of its high speed and economical cost. Its custom end of arm tool can pick and palletize both rolls and cases.
2 Infeed conveyors – One infeed conveyor for cases and one for single rolls.
Outfeed/palletizing conveyor – Pallets are placed on the pallet exit conveyor by the robot and moved automatically out when a stack is finished.
Pallet dispenser – The pallet dispenser is filled with empty pallets. The robot picks and places the next pallet as a finished pallet/stack pallet is conveyed out of the cell.
2 tier sheet racks – The pallet needs different tier sheets for the different products so two racks makes the process more efficient.
Safety fence/light curtain – The robot cell is completely protected with a safety fence and light curtains across openings in the fence. If a door is opened or a light curtain is interrupted in an unexpected manner the robot cell will stop functioning.
HMI/controller – The HMI (human/machine interface) allows for product to be changed over easily and provides system information and alerts.
Robotic Palletizer Benefits
Product Changeovers
Conventional palletizers, while supplying speed and throughput, do not offer the flexibility of a robotic palletizer. Frequent product changeovers in conventional palletizers can mean a lot of downtime. With robotic palletizers, end of arm tooling can be custom designed to handle a variety of product sizes and shapes or be quickly changed to accommodate new requirements. Robotic palletizers also allow the manufacturer to program and store a variety of pallet patterns. This means a product change can be done in just a few minutes or on the fly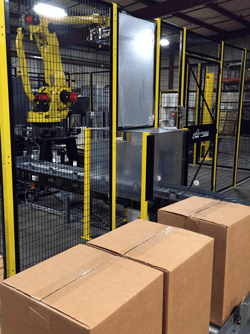 Mixed Load/SKU Pallets
Conventional palletizers usually are only capable of building pallets of homogeneous product. Retailers, wanting to streamline their process, are requiring manufacturers to send mixed sku/load pallets. Robotic palletizers can work with a number of infeed conveyors and place different layers of product onto a pallet. Robotic palletizers can even make a mixed layer pallet, commonly found on the output side of distribution centers. Robots can be equipped with vision integration options including 3D vision that allow for picking randomly placed cases and placing them in a specific orientation on a pallet..
Product Damage
Another issue with conventional palletizers is they are not very delicate with the product and many times they will damage cases. This is especially true with lightweight packaging that has become a sustainability trend. Downstream stretchwrappers can be easily integrated with a single or multiple cell palletizing system so that pallets leaving the palletizing conveyor will stay straight and tight.
Reliability
Lastly, FANUC robots are extremely reliable and the technologies that come with robotics offer even further flexibly. FANUC provides robots with high reliability and uptime in excess of 80,000 hours mean time between failures.
If you are finding that your needs are moving beyond the conventional palletizer, let Motion Controls Robotics discuss with you the options available using a robotic palletizer. You might be surprised by the total robotic palletizer cost and affordability.