Single-line Palletizer Overview
Motion Controls Robotics has built a variety of single-line palletizers for customers over the years.  Single-line palletizers are the preferred end-of-line solution for larger volumes of varied product SKUs. This type of robotic cell is designed to be compact – taking up the same or less space than a traditional palletizer. Single-line palletizers are flexible enough that it is easy to expand the footprint to include another infeed line.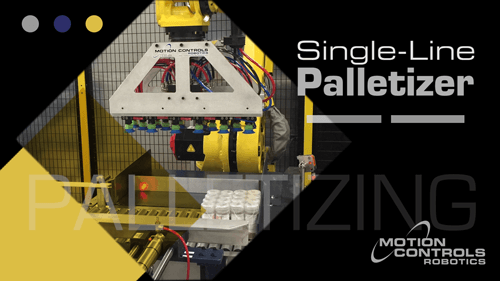 Single-line palletizers can be used to palletize a variety of product types:
cases
wrapped product
rolls
bags
plastic
cans
---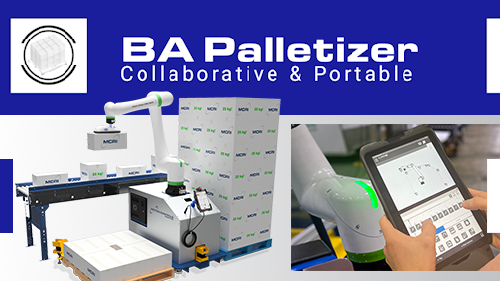 This project presented some challenges due to the inconsistency of shrink packaging around the product. Our team minimized the effect of this inconsistency by limiting the interaction with the problem areas. Although, when it would come into play, a special user interface was developed to create an offset for picking packages.
---
Customer Challenges
This example of a single-line palletizer was designed for a company that wanted to be able to palletize two different product sizes and multiple SKUs. Their facility layout required a small footprint robot system which needed to be under 12' x 9' and portable so they could move it using a forklift to a variety of end-of-line areas.
Palletizing Process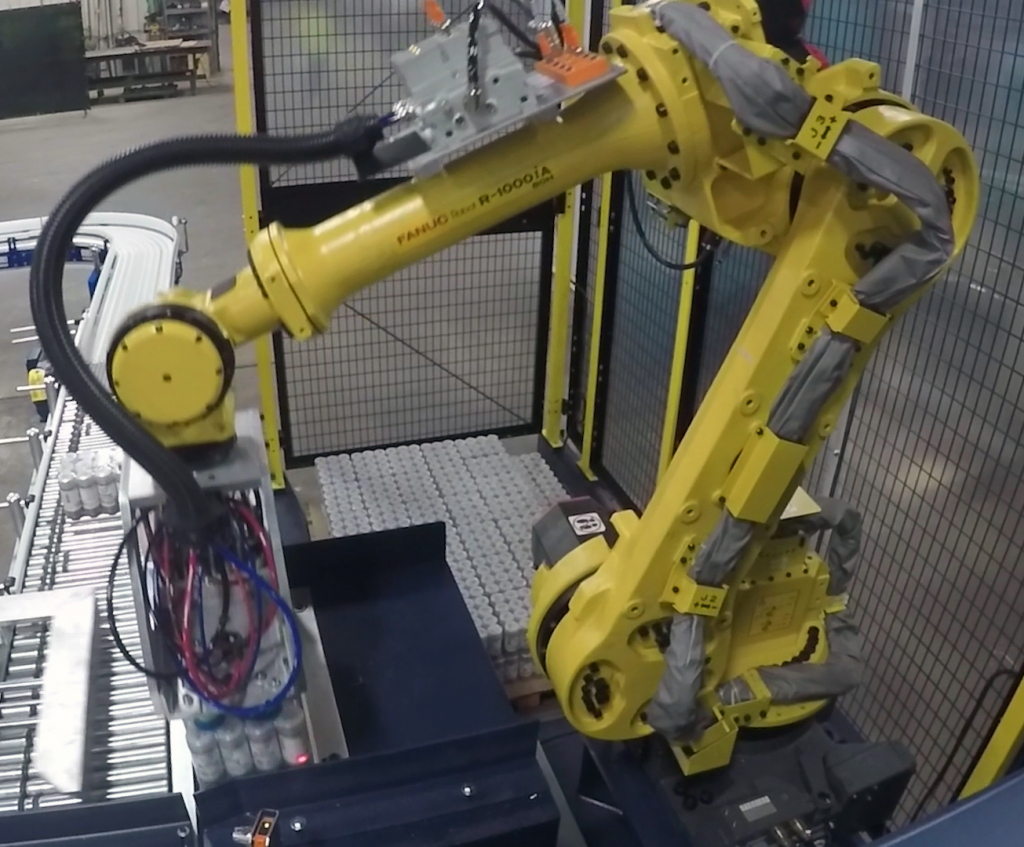 The product comes out of the wrapping area onto an infeed conveyor.
The conveyor has a bump turn to position the product so they line-up on the build station.
Once the build station has lined-up 6 packs, a sensor triggers the product registrator to position them against the guard on the pick table.
The robot picks the product with the zoned vacuum gripper.
Based on the selected product size, the robot stacks the product in the correct pattern.
Finally, when the pallet is finished the operator uses the entry gate, equipped with an interlock switch, to remove the full pallet and continue the process with an empty pallet.
Robot & End of Arm Tool for Palletizing
The product being picked and palletized was light enough for us to use a R1000iA 80H FANUC robot. The end of arm tool uses zoned vacuum cups for picking product. The pallet in the cell did not need to be transferred, so the EOAT could have a compact, simple design.
Safety Features
We follow the RIA 15.06-2012 Safety Standard designed to make sure employees and robots work safely together. We take full advantage of new technologies and innovations available. Each system is complete with safety fencing and cell entry gates equipped with safety interlock switches. If any areas around the conveyor are open, light curtains are added to detect if the robot area has been entered.
HMI – for Single-Line Palletizer
The user-friendly palletizer allows the operators to easily switch between product size using the HMI. The HMI display shows error states and monitors the cell entry.