One of the benefits of a robotic work cell is the ease with which it can be relocated and/or repurposed to another area of your plant or even another site.
Following are some steps that can help to systematically startup a repurposed or relocated work cell. Keep in mind this is not an all-inclusive list, and your best bet is to involve a qualified robotic integrator like Motion Controls Robotics to assist – preferably, an integrator who specializes in the robot type used in your robot cell, and in your robot cell application.
Before you begin your robot cell relocation (repurposing/upgrade), make sure to look into the following:
Ensure what safety will have to be upgraded for the rebuild. Safety may require updating to the latest RIA safety standards and other National and Local specifications. Some changes are grandfathered so that later RIA specifications don't apply, but this is tricky terrain.
Determine if any new features or functions of the process would require robot software options that may not have been necessary on the previous application.
Ensure all wires are durably marked before disconnection. Lots of photographs from different angles help here as well.

Put fresh batteries into the robot (since it may be powered down for a length of time). If the robot's memory backup batteries die while the robot is disconnected from power, the robot will lose mastering and you will be required to perform a somewhat time consuming re-mastering of the robot on power up.
Back up PLC and HMI software
Ensure electrical prints are updated for current configuration.
Measure cell and make sure you have the most current layout drawing including top of roller.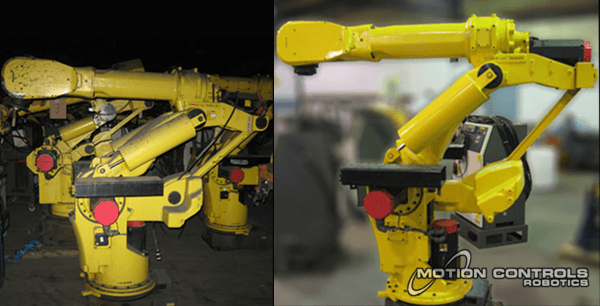 Once the robot cell relocation is complete, initial checkout steps should include:
Inspect inside control panels and rest of machine/robot cell to ensure that all wires are connected. There should be no hanging wires.
Prior to turning on disconnect, pull all the fuses in the fuse panel except the one(s) required for the low voltage 24VDC power supply to power up.
Turn on disconnect and test all voltages.
Start plugging in 24vdc fuses to power up components.
Power up PLC and HMI if applicable.
Check that Master Control Relay (MCR) safety circuit will reset, if not, troubleshoot. NOTE: Robot may need to be powered up to do so.
Check FCR (Fence Control Relay) safety circuit and troubleshoot if necessary.
Power Down disconnect and plug in all 480VAC fuses not already in.
Turn on disconnect, reset MCR and FCR and check motor rotations in manual mode.
And as always, make safety your first priority!
Motion Controls Robotics, Inc. is a FANUC Certified Servicing Integrator, one of a limited number of integrators in North America who are authorized to service and maintain FANUC robots. We repurpose recertified and factory authorized FANUC robots for our established customers.