Lead Controls Engineer at Motion Controls Robotics becomes one of the 14,000 engineers worldwide to receive a certificate in Functional Safety from TÜV Rheinland. The TÜV Rheinland Functional Safety Training Program began in 2004 as a worldwide training for Functional Safety where all information provided is approved by a neutral third party.
What is Functional Safety?
Functional Safety is for companies with engineers that work with electrical and/or electronic elements to assure the systems, in Motion Controls Robotics' case – robotic systems, follow standards set forth by associations such as the Robotics Industry Association (RIA), ISO as well as the IEC 61508 and IEC 61511 safety standards for functional safety of machinery to reduce risk and achieve safe equipment use.
This program requires the trainee to know how to define each process and develop methods for avoiding faults and applying safety products as well as verifying safety consistently throughout the project.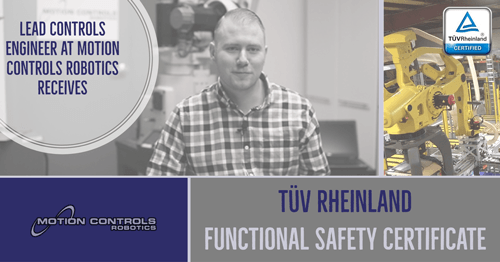 " I'm proud to work for a company that takes the safety of our equipment so serious. No one should ever be exposed to a dangerous hazard when operating a robot cell, and we work hard to ensure that with every system! "
How Does Functional Safety Apply to Robotic Integration?
All the standards that are covered in this certification are also a large part of the RIA R15.06 robot safety standard and various technical reports from RIA regarding safeguarding. The TÜV Rheinland certification comprises safety standards for items such as FANUC robot controllers, safety interlock switches, light curtains, and other items specific to robot cells.
The TÜV Rheinland certification also covers everything from safety circuit design, risk assessments, safety verification and validation, calculations to determine performance levels and category ratings, and other processes specific to robot cell design and integration.
The Functional Training Certificate is a Value Add to our Customers
MCRI knows that selecting an integrator for automating a current process is a tough decision, so through becoming certified FANUC integrators recognized by the Robotic Industry Association for robotic integration then adding the TÜV Rheinland Functional Safety Certificate to maintain the best possible safety standards, companies can feel confident in Motion Controls Robotics' abilities to properly and safely integrate their new robot cell.