This is the first of four articles covering the four main categories of grippers used in robotic applications. Remember that most times a custom designed EOAT will include multiple types of grippers to provide flexibility in the process.
Also in our gripper series:
Robotic End Effectors, Pneumatic or Servo Grippers, and other End of Arm Tooling (EOAT) are like the robot's hands. They perform functions like material handling, pick & place, and machine loading/unloading.
Mechanical grippers – require either hydraulic, electric, or pneumatic drive systems to control gripper fingers. Typically mechanical grippers need only two or three points of contact on the product. These points of contact can be covered with a soft friction material to help reduce damage and improve grip.
Features of mechanical grippers:
Grip using pivoting, linear, or translational movement
Simple to use
Pneumatic control is cost effective, simple to maintain
Servo controls can be used where precise, controlled gripper movement is required
Servo controls allow variable gripper displacement for wide range of product size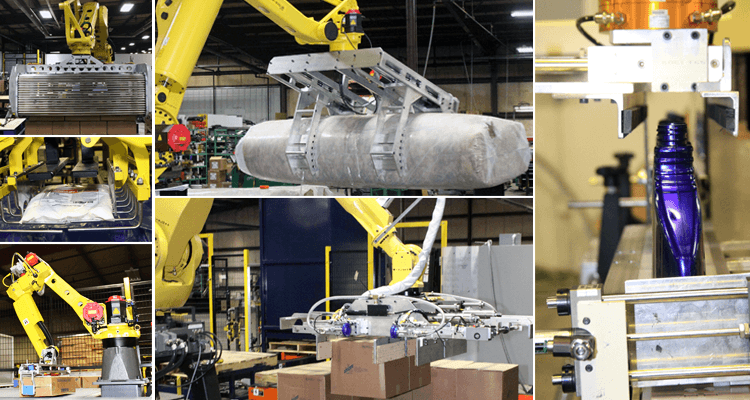 A special instance of a mechanical gripper is the full layer rolling door or sliding plate full layer gripper. This type of end of arm tool is commonly used in high volume case palletizing operations and features:
High case throughput
Significant operating space
Higher initial cost, maintenance cost
This video shows an example of a full layer, multiple use mechanical gripper. Not only can the gripper pick a higher payload layer, it can also pick and place pallets and tier sheets.


Another special type of gripper is the adaptive gripper design from Robotiq or Schunk. Two, three or more finger designs provide variable compliance, or "hand-like" capabilities.
Mechanical grippers can be incorporated into almost any project where an object or layer of objects need picked and placed.
If you think that a custom designed mechanical gripper would help increase the efficiency of your process, contact Motion Controls Robotics for an evaluation. If you currently use a mechanical gripper in your robotic system, we would love to see and share your experience. Fill out our contact form and we will share on MCRI's Facebook page