This is the second of four articles covering the main types of grippers used in robotic applications. Remember that most times a custom designed EOAT will include multiple types of grippers to provide flexibility in the process.
Also in our gripper series:
Robotic End Effectors, Pneumatic or Servo Grippers, and other End of Arm Tooling (EOAT) are like the robot's hands. They perform functions like material handling, pick & place, and machine loading/unloading.
Vacuum grippers
Vacuum grippers are used for a wide range of product from cases to soft flexible packaging, but are most commonly seen handling objects that are smooth, flat, and solid. These grippers use soft rubber, plastic, or elastic suction (vacuum) cups to pick items so there is no damage to the product being handled.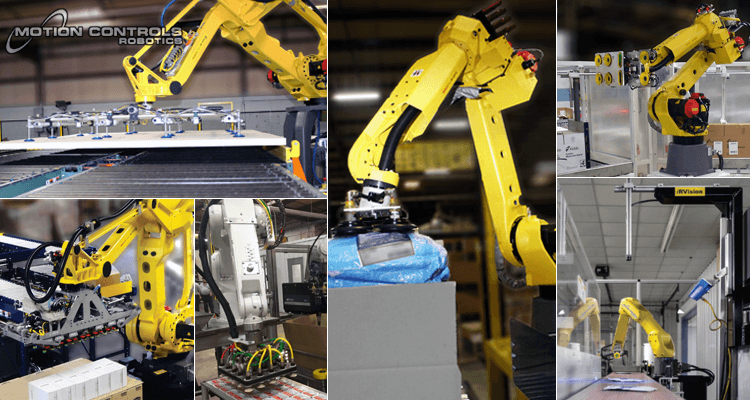 There are two ways to generate vacuum:
Quick acting
Vacuum is generated with compressed air
Allows readily configured multiple vacuum zones
Flexible programming
Vacuum Pump
Can be less expensive to implement depending on application
"Motor/pump" generated vacuum
Slower vacuum action
Limited flexibility
Can be less expensive to operate

This video shows how vacuum cups can be used to lift bulky building materials.
Vacuum grippers are commonly used for material handling of flat, smooth objects (like building materials – foam insulation and boards) or corrugated cases in palletizing applications. Another common use, especially in the food and beverage industry, is case packing pouches. Pouches, or soft flexible packaging, are becoming very popular because of the reduction in packaging waste associated with their use.
If you think that a custom designed vacuum gripper would help increase the efficiency of your process, contact Motion Controls Robotics for an evaluation. If you currently use a vacuum gripper in your robotic system, we would love to see and share your experience. Fill out our contact form and we will share on MCRI's Facebook page.