Motion Controls Robotics designs and builds many of our robot system components in-house to bring more value and quality to our systems. Lexan is one material that we find very useful when building robot system safety components.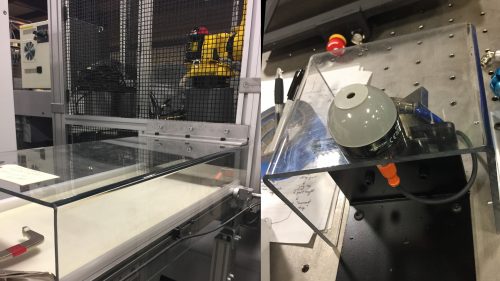 Lexan is the name brand of a type of thermoplastic made from polycarbonate resin. This thermoplastic is a great building material for safety guarding because it is extremely strong, see-through, can be formed upon heating, and won't crack upon bending or drilling holes.
Lexan is used in building many of our safety components be such as:
Entry and exit guarding with doghouses/tunnels
Machine guarding
Finger safe guarding
Other maximum visibility areas requiring guarding
University of Toledo Co-op's Team Designs a Lexan Bender for MCRI
One of our talented co-ops from the University of Toledo (and now an official Mechanical Engineer at MCRI) discussed with us how his team could use their Senior Design Project to build something that would be useful to Motion Controls Robotic. This question was presented to the shop team. After some deliberation, the fabrication team asked for a more flexible and consistent piece of equipment they could use to bend Lexan.
Video Explains how the Lexan Bender works
Before graduation, every senior must participate in a design project with other senior engineers. After speaking with the MCRI engineering department, we were able to get MCRI partnered with the senior design class to sponsor this project.
~ Nate, ME Co-op now full-time ME
The team of four University of Toledo (UT) students took the idea and ran with it. Lexan will deform when heated to 297 degrees. Using this knowledge, the UT team developed a table with a heating element and timer. After running tests, they found the optimal time for heating the Lexan so it would be easy to bend but not produce bubbles if heated too much.
The next step was to design a way to provide flexibility and consistency in bending. For this, they designed a hinged table that would allow for multiple bend angles.
The UT team introduced and explained their Senior Design Project to:
A "Shark Tank" Q & A consisting of professors that quizzed the seniors on their entire process and how the final Lexan Bender worked.
A general audience of peers, family members, and friends that were excited to see the culmination of the work the students have been working on over the last few months.
A science fair setup where the Lexan Bender was on display and visitors to the showcase could stop by and ask questions and see how the bender worked.
This all happened during one day and after the long day… drumroll – their team came away from the event with the distinguished First Prize!
We are very proud of the work our co-ops do at Motion Controls Robotics. They represent the University of Toledo with pride and an enthusiasm to learn about the world of robotics.

Motion Controls Robotics fully supports the University of Toledo co-op program each year bringing several students to MCRI for positions in programming and electrical and mechanical engineering. You can read more about how the UT co-op program has benefitted MCRI in our UT Co-op Program Benefits Robotics Industry article.