A little over a year ago Motion Controls Robotics finished a one-line robotic palletizer for BSD (Building Self Determination) Industries (a social enterprise by the Arthur M Brazier Foundation). BSD was starting along their path of fulfilling the dream of preparing local students and community members to be ready for the workforce of today. This foresight and passion led to the creation and ultimate reality of a great program.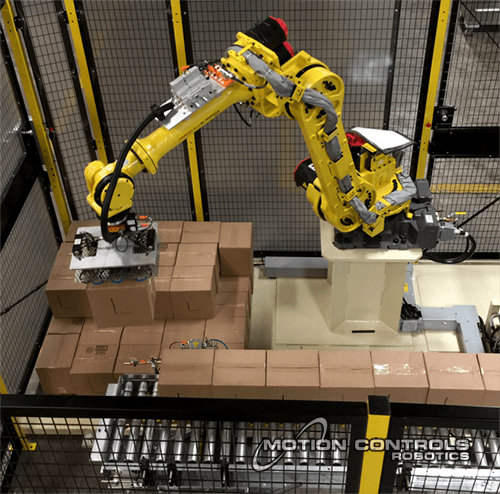 The goal of the robotic palletizer, along with other automation used in their facility, is to train operators to run, maintain, and troubleshoot an entire high-tech production line. It is a necessity to have these skills to be able to successfully navigate a career in the industrial environment. This career path is evolving away from repetitive, boring and sometimes dirty work to a more technical job of problem-solving and maintaining top manufacturing levels for each automation system.
BSD Industries has been successfully running their advanced technical program for over a year now, and recently had their first round of proud graduates ready to be automation support technicians. Over the past year, students have been involved in a 5-level training program.
This BSD Robotics Technicians Training Program includes skills for:
Workplace readiness skills
2D/3D CAD Drafting
Performing routine maintenance on equipment
Setting up and operating production equipment
Managing a crew in an industrial setting
Automation controls programming
Robotic Programming – program and maintaining the robot system as well as providing others training in robot system functions
The BSD team with MCRI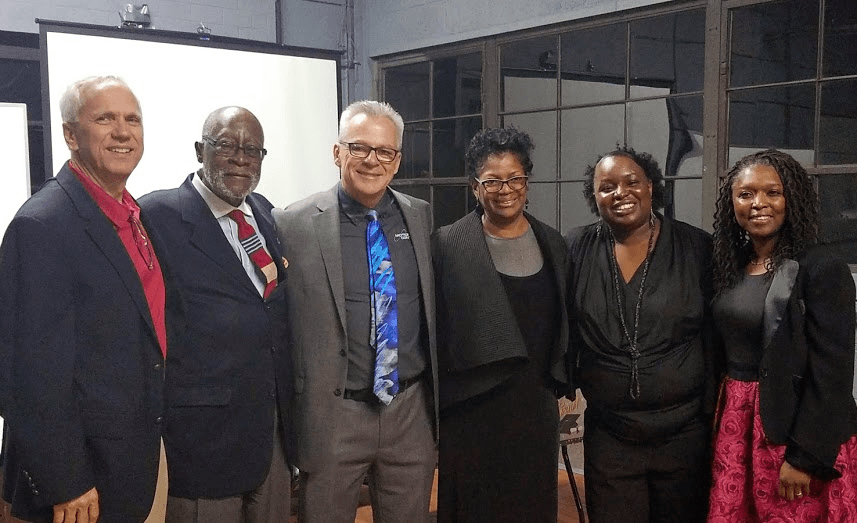 Pictured left to right are:
Earl Raynal Jr, MCRI Sales Engineer
Dr. James T. Kinard, Runs the Boot Camp and provides the Cognitive Math training
Tim Ellenberger, MCRI Vice President
Kathy Watson, Chicago Federation of Labor
Trista Bonds, VP of Engineering and Manufacturing Operations
Nikki Bravo, VP of HR and Workforce Development
---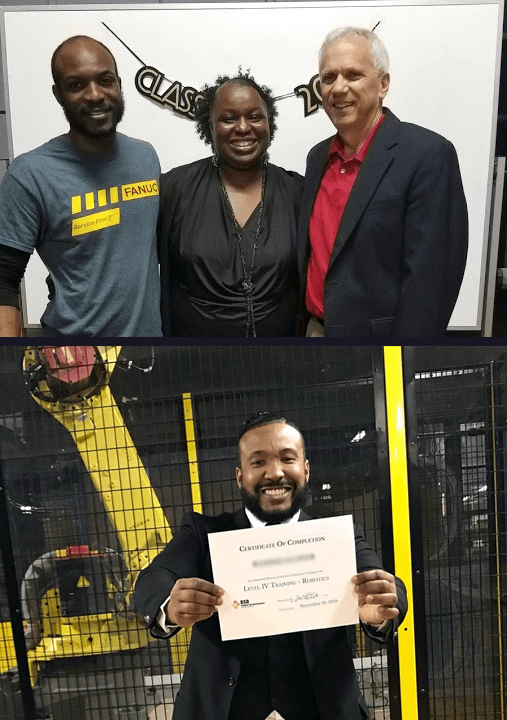 BSD Industries asked Motion Controls Robotics' Tim Ellenberger, Vice President, and Earl Raynal, Sales Engineer, to join them in their first graduation ceremony to speak about MCRI and BSD's relationship and to motivate the graduates to follow their dreams in technology.
Tim Ellenberger shared with the students,
I was told by a motivational speaker that every adult American will have 7 opportunities to get ahead in life. Only 1 of 11 people will take advantage of 1 of those opportunities. There are 60 of you graduating. That equals 420 opportunities. According to this data, only 5 of those opportunities will be looked at. How many of your opportunities are you going to go after? I challenge you to go after all of them. Getting ahead is YOUR goal and standard, not someone else's. With your training in a good cross-section of technology, you are in a unique position to be able to choose many different directions. Go after those opportunities like you own them!
As a robot integrator and understanding the industrial pressures right now, we all know that each of these students has already taken advantage of at least one opportunity to learn and be more prepared so they can function at the top level in an industrial position.
If you would like to learn more about this amazing program you can read our first article – Robotic Training Facility has Grand Opening
If you are curious about the robotic palletizer they use to train students you can find out all about the system here –
Single Line Case Palletizer for Workforce Development