Robotic Case Palletizer Overview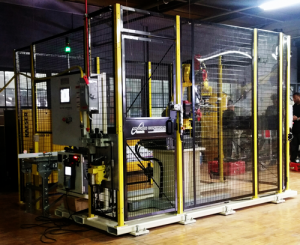 Our latest integration project was to design a single line case palletizer for stacking cases filled with plastic cutlery as they are conveyed into the palletizing cell. As an interesting twist to the project- the robot system will serve a great cause in the Chicago area. The palletizer was designed for a lowprofit organization called
BSD Industries
out of Chicago.  BSD Industries manufactures plastic cutlery as a way to bring training and workforce development to the residents of the community. This palletizer and HMI setup will be used to train for future employment and knowledge in handling robot systems in the manufacturing environment. The palletizer is just one part of BSD Industries setup.
They also have other workforce development areas like:
FANUC CERT cells (Certified Education For Advanced Automation) for employee training and robot certification
Critical thinking and math skills training
Other robot systems
This type of training addresses the number one complaint of manufacturers today  – not being able to find qualified operators.
Customer Challenges – Robotic Case Palletizer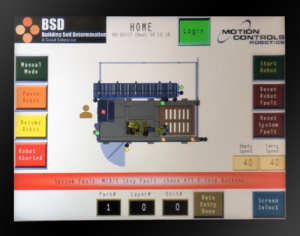 Our customer wanted to build a robot system for palletizing boxes with a specific label orientation for each box on the pallet. The goal was to palletize 10 cases a minute to meet current and future order requests. The second aspect to the design was to have an HMI that could be used as a teaching device to train people familiar with working in an industrial environment that have not had experience operating a robot cell.
Case Palletizing Process
The cases of plastic cutlery arrive on an infeed conveyor.
The robot sensor locates the box and then picks the product with the vacuum gripper.
The robot places the box on the pallet, label out, each layer following a custom pallet pattern.
Finally, when the pallet is finished the operator uses the entry gate, equipped with an interlock switch, to remove the full pallet and continue the process with an empty pallet.
Robot & End of Arm Tool
It is exciting to be a small part of this endeavor. The passion and interaction of the trainees I saw at BSD was something I have not seen before in the manufacturing environment. The focus was really on bettering themselves, so they could better the business and community. ~ Tim Ellenberger, MCRI Vice President
An R-1000 iA /80H was integrated into this palletizing cell equipped with a vacuum gripper with suction cups to pick the cases from the conveyor. The R1000iA works well in a compact robot cell and the speed allows the robot to keep up with the incoming cases on the conveyor.
R1000 iA/80H
AXIS ROBOT – 5
REACH – 2230 mm
LOAD CAPACITY – 80 kg
Safety Features
Motion Controls Robotics follows the RIA 15.06-2012 Safety Standard designed to make sure employees and robots work safely together. We take full advantage of new technologies and innovations available. Each system is complete with safety fencing and cell entry gates equipped with safety interlock switches.
Customer Results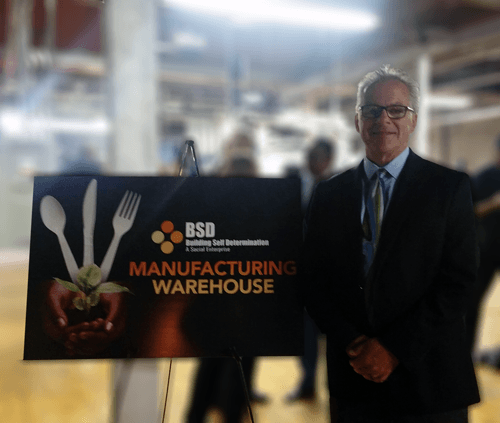 This initiative shows the realization of how robotics is changing the workplace, and the need for learning to grow with the changes.  Robot systems keep current companies and even bring back manufacturing companies to the Unites States. American companies are able to stay competitive through innovation. Robot systems are safer and eliminate repetitive motion and back injuries that are common in this type of work.