The production requirements for the food and beverage industry are changing. Consumers are demanding a variety of food types and packaging options. At the same time, the FDA is increasing food safety regulations. These, as well as maintaining your competitive advantage, are all shining a spotlight on flexible manufacturing processes.
Motion Controls Robotics works with food and beverage manufacturers to provide quality robotic solutions that address issues you are facing
More flexibility to provide different packaging options and variety packs for consumers
Food sanitation
Employee safety
Finding qualified, reliable workers
Increasing overall throughput while also being able to ramp up and down production numbers
The overall cost of adding robotics is going down while innovations and capabilities are increasing. Watch video to see a variety of applications for the food and beverage industry.

Picking and Packing Robot Systems
Our picking and packing lines start with case erectors that move cases through to the packing area. Higher speed LR Mates or Deltas are equipped with custom designed end of arm tooling to fill the cases and send them on to labelers and case tapers. Conveyors can be integrated to convey cases out for secondary packaging or palletizing.
Quality checks can be implemented into robotic systems to check for case completion through weight tests or vision systems.
Picking and packing systems are be designed for multiple picking applications on one line with minimal changeover time – Allowing manufacturers flexibility in offering variety packs. This system flexibility also bring more speed in introducing new products to market.
Using robotics for picking and packing, brings increased productivity, repeatability, speed, accuracy, flexibility and safety.
Robotic Palletizing Systems for Food and Beverage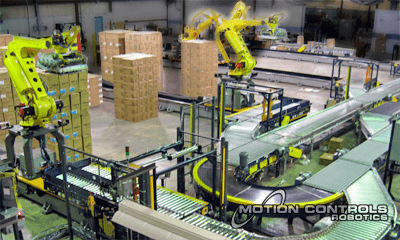 Centralized palletizing systems are designed to meet a variety of your needs and include case conveyors and product tracking for building retail-ready, mixed pallets. Flexible design options for end of arm tooling allows picking possibilities for single products up to full rows or layers for custom pallet patterns – even in facilities with high SKUs. This flexibility brings improved efficiency and cost savings to the process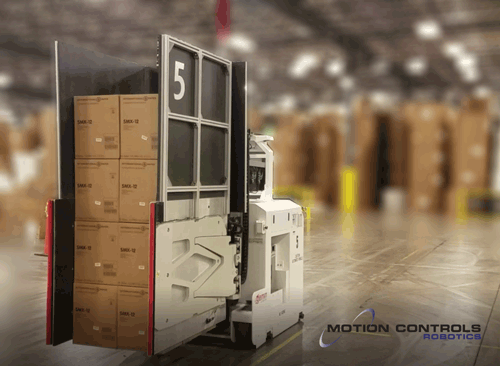 Once product is palletized we label pallets and automate transportation to stretchwrappers or warehousing with conveyors or Automatic Guided Carts.
Depalletizing systems for incoming packaging and raw materials can be integrated into the process.
Lastly, adding robotics for palletizing/depalletizing increases quality and overall output rates through product traceability and around the clock production.
Food Grade Robots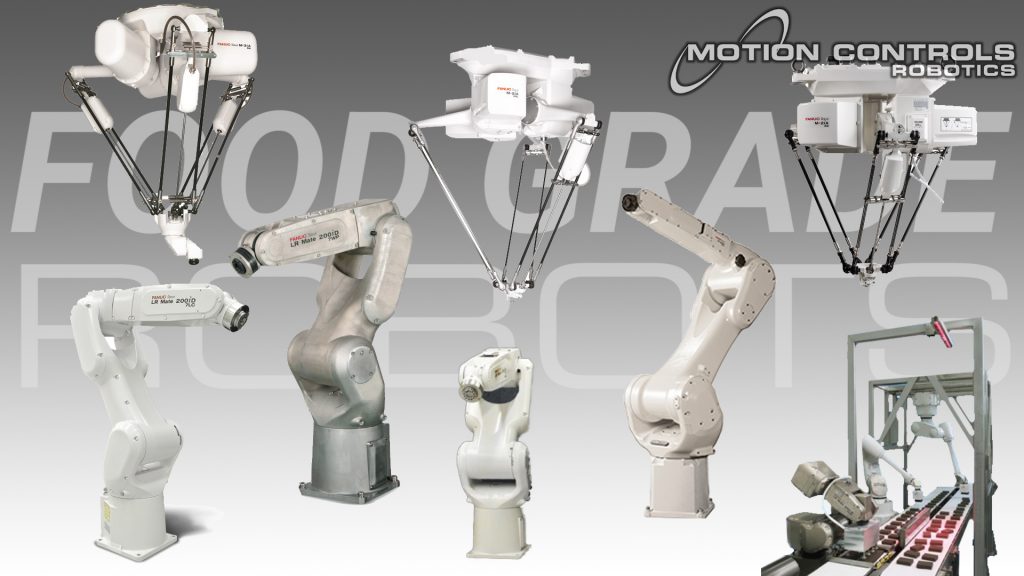 FANUC America has a diverse selection of picking, packing, palletizing & food-grade robots that meet the demands of manufactures wanting flexible and reliable systems
With all these options, it is easy to find the best robot for your application.
Food grade robots feature sanitary designs with smooth, washable surfaces and levels of protection up to IP69K.  The FANUC Food Grade line-up is USDA accepted, can withstand harsh and corrosive environments, and various models use food-grade grease. The food grade Deltas are easy to equip with a variety of end of arm tooling options for high speed pick and place in primary or secondary packaging. These robots can be used to handle raw food including cheese and produce.
Robotics for food and beverage is definitely getting hot – contact MCRI to schedule a site visit to see how robotics can transform your process. If you are in the food and beverage industry, we would love for you to take our very quick, 4 question survey to help us learn more about developing easy to use, cost effective robotic solutions?