LRMate 200 Series Robot
LR Mate 200 is a human arm sized mini robot. The slim arm minimizes interference to peripheral devices in narrow spaces.
Models

Payload

Reach

LR Mate 200iD/4S
4 KG
550mm
LR Mate 200iD
7 KG
717mm
LR Mate 200iD/7L
7 KG
911mm
LR Mate 200iD/7C
7 KG
717mm
LR Mate 200iD/7LC
7 KG
911mm
Application(s):
Assembly
Descrambling-Bottles/Packages/Parts
Material Handling
Pick/Pack
Description
Tech Talk Posts for the FANUC LR Mate Series Robot
LR Mate 200 Series Robot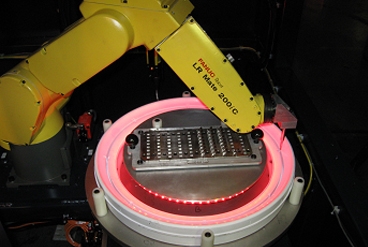 This flexible 6 axis robot offers optimal performance for small, lightweight part production. MCRI has placed LR Mates in industries such as food, metals, plastics, and packaged and consumer goods. Manufacturers can count on the repeat-ability and speed on the LR Mate Robot. The robot and its cell take up little space and the thin arm can fit in narrow work spaces.
Motion Controls Robotics uses LR Mates in the Ergopack case packing system, in a variety of food packing systems, and for machine tending operations.
The FANUC LR Mate is also perfect for:
Packaging
Pick and place
Material handling
Parts cleaning
Assembly
Testing and measuring
Cutting, grinding, deburring and polishing
Additional information
| | |
| --- | --- |
| Mounting | Multiple mounting options: floor, tabletop, inside machines, angle and invert, which maximizes flexibility for small and narrow workspaces |
| Controller | R-30iB |