You have made it to the third step in the process of adding automation. You have gone through the work of evaluating, documenting, and improving your current process. Now you need to figure out which robot integrator to trust to build your robot system.


As a robot integrator, we would like to say, "Just come to us for all your robot needs." Really though it is not that simple. You must think about who is ready to meet your needs for your application. There are the main checkboxes that every integrator must tick, but then once you dive deeper into your specific application, certain integrators will not match all your needs.
We are going to go through four areas that need to be examined when selecting your integrator:
Robot Industry Associations – Industry associations hold integrators accountable for using best practices in the robotics industry for safety and technology.
Robot manufacturers – Many system integrators select the robot manufacture they believe offers the best options for integration.
Application – There are a wide variety of automation applications and you want to select an integrator that focusses on your application.
Experience – Make sure the integrator has proper experience and can answer problem-solving questions about your process.
* If you want to review the other articles in the series, click on the area below to read the article.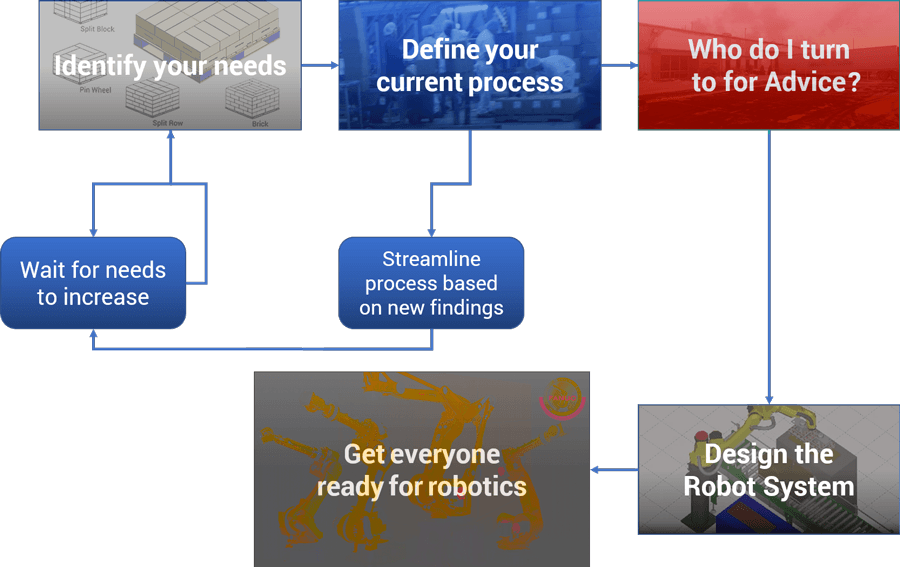 Robot Industry Associations
"At times it can be difficult to convey to a new customer the depth of experience and qualifications of our organization. Achieving the Robotics Industries Association certification demonstrates our expertise and allows our customers to make a more informed supplier selection decision based on the findings of an independent third party."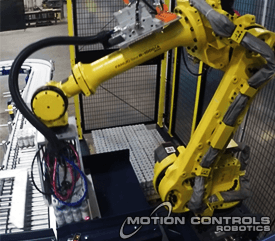 ~Scott Lang, President, Motion Controls Robotics, Inc. (First ever to achieve RIA certification.)
The Robotic Industries Association (RIA) is the foremost leader in the robot industry associations. The RIA Certified Robot Integrator program began in 2012. Their goal was to make sure that system integrators, in an ever-expanding arena, were accountable for building safe robot systems for manufacturers.
Adding robotics to the manufacturing process was new to many companies and the RIA wanted to make sure these manufacturers had integrators that could be trusted to use best practices when installing their systems.
Member integrator companies like Motion Controls Robotics are continually audited, tested, and trained to the most up-to-date safety standards for the robotics industry.
Using input from end-users, robot manufacturers, component suppliers and the integrators themselves, we developed the RIA certification to demonstrate a company's commitment to excellence, representing:
High Level of Achievement
High Level of Proficiency
Breadth and Depth of Knowledge
Deep Commitment & Accountability
Safety Compliance Expertise
Financial Solvency
Selection of an RIA Certified Integrator gives you peace of mind that the integrator will provide you with a robot cell that meets or exceeds industry best practices in areas of technology, safety, form, and functionality.
Robot Manufacturers


Many of the top robot manufacturers have developed a network of trusted integrators. These integrators have demonstrated their abilities through experience and training. The integrator programs keep the robot manufactures in contact and aware of what is going on in the facilities of their integrators. They can help you select an integrator with the experience you need to successfully complete your project. FANUC America started their Authorized System Integrator (ASI) program almost 30 years ago making it, not only the longest running program, but the widest selection of system integrators. Kuka, ABB, and Motoman have also developed integrator programs after seeing the benefit of providing a trusted integrator to install robots into complete systems.
Applications
With technologies constantly expanding, there is an ever-growing number of applications where robot integrators are involved. Finding an integrator that specializes in your application is beneficial.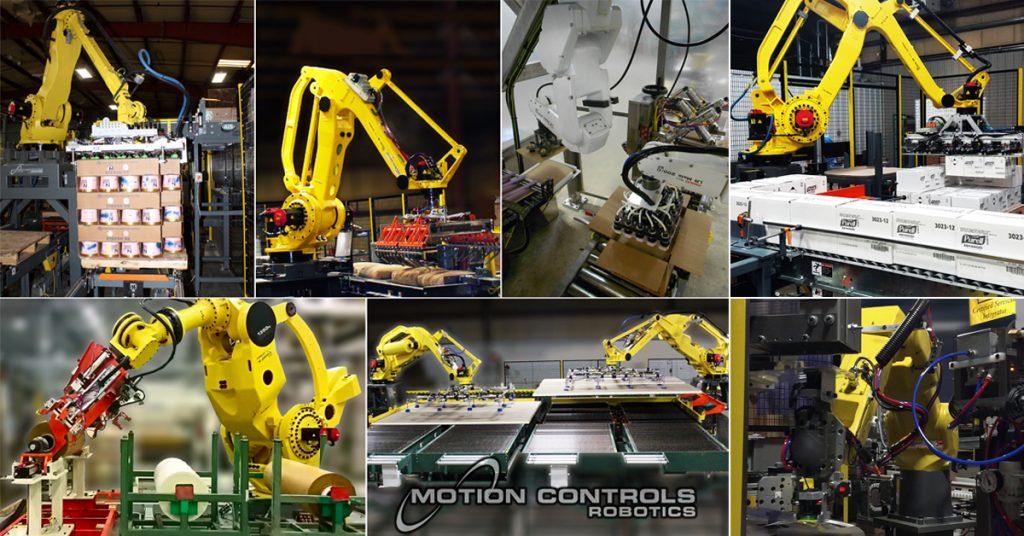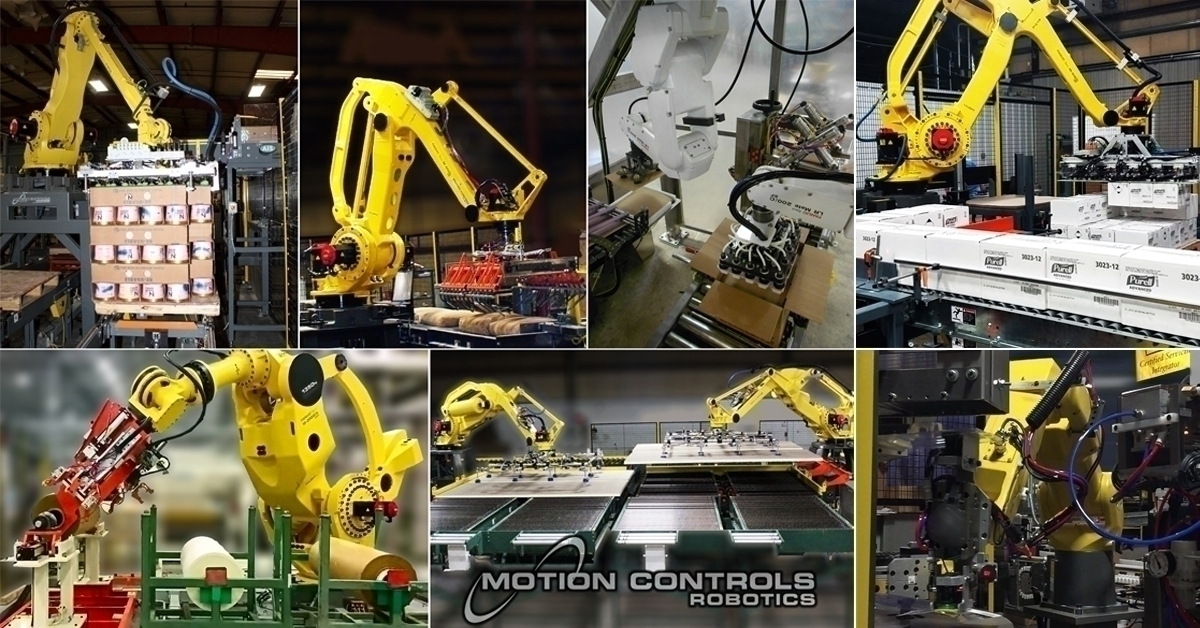 Integrators have mixed experience with a wide range of applications including:
| | |
| --- | --- |
| | |
| (includes palletizing, case packing, ) | |
| pick and place, etc. | |
| | |
Top 2 ways to decide if an integrator specializes in your application:
It is hard for any integrator to be an industry expert in all applications.
The best way to find out if the integrator you are researching has experience in your application is to look at their website and/or YouTube channel. Peruse images, videos and information. You may not see your specific application, but general experience is enough e.g.- Have they done welding applications?
Call and talk to the integrator about the experience they have had with your application. They will share their knowledge.
Experience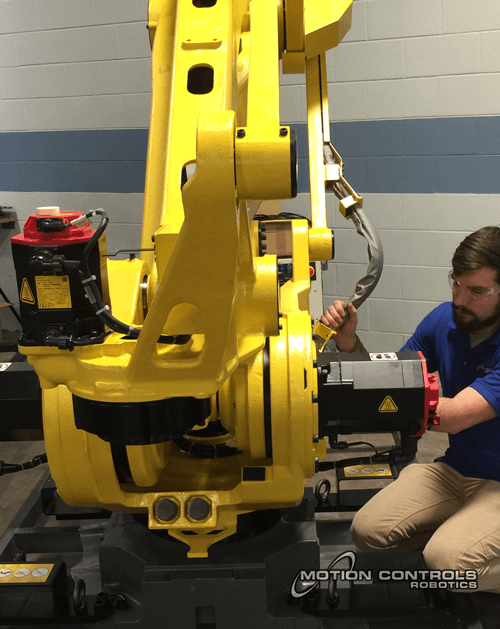 Experience is the final aspect that gives you the assurance that you can trust and accept the advice from a robot integrator. It is also a good sign they will be around to answer your questions in the future. You know your current process very well.  Combined with an integrator's experience in automation, you can form the perfect team for successfully translating your current process from manual to automated.
Experience means the robot integrator should be:
A Problem Solver
The integrator can quickly evaluate the feasibility of your project.
The integrator can clearly explain a plan for achieving your desired goals.
The integrator has the experience to design, build, program, install and support your robot system.
The integrator can explain what is possible and give tips for improving your process.
Safe
Experience in building systems and proper certification means they can select the proper guarding and safety equipment.
Flexible to Select Best Equipment for Your Project
As a manufacturing company, you may not have the resources to go investigate the myriad of available equipment for different areas of your automation project such as end of arm tool, conveyor, welders, baggers, stretchwrappers, etc. Bringing in an experienced integrator gives you that flexibility.
Working in the industry for many years means the integrator knows which suppliers have the right equipment and components for your project.
Strong with Project Management/Communication
An experienced system integrator will give you a project timeline based on the complexity of your process.
Your company should be involved and updated by your integrator throughout the design/build/test/install/startup process.
When the system is installed, you will receive operator training.
If there is any complexity to your robotic work cell/system, your integrator needs to have factory floor space to completely set up and test your robot cell before it is shipped. Your facility is not where you want the integrator working the bugs out of the system.
We continue to move down the road to your final automated process. Our next article will tackle designing the system.