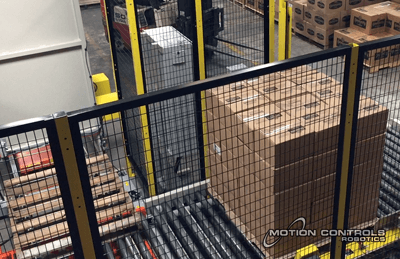 A food and beverage company wanted to automate their packaging lines with end-of-line palletizing. As their product count increases and pallet patterns get more complicated, the customer saw the need to change their current palletizing process.

Customer Challenges – End-of-Line Palletizing Cell (packaging lines)
The main challenge brought to MCRI was to develop a small footprint robot cell that can accommodate the flow of two packaging lines. We needed to develop a staging area for the product that would build pallet patterns of one, two, four, and six cases. To fully automate the system, we recommended a pallet dispenser to quickly replace the pallet as in moves down the conveyor. This saves overall space, decreases the time it takes to replace full pallets and increases cell safety by enclosing the palletizing area.

Process Sequence – End-of-Line Palletizing Cell
First, a pallet is dispensed from the pallet dispenser.
Cases flow from two packaging line conveyors into the robot cell.
There are 4 different case sizes forming 4 different pallet patterns. Based on the case program that has been selected by the operator on the HMI, the cases form the proper layer pattern on the conveyor and are moved to one of two pick stations.
Once the pattern is formed, the robot picks the cases. This palletizing process allows the customer to meet a rate of up to 44 cases per minute.
Upon load completion, the pallet is moved down the conveyor and can be removed and transported by a fork truck.
When the pallet leaves the station, a new pallet is dispensed from the automated pallet dispenser.
Robot and End of Arm Tooling
M410iB/140H
AXIS ROBOT – 4
REACH – 2850 mm
LOAD CAPACITY – 140 Kg
The end of arm tooling for this robot brings flexibility to the system using a vacuum gripper with programmed zones for picking.

Safety Features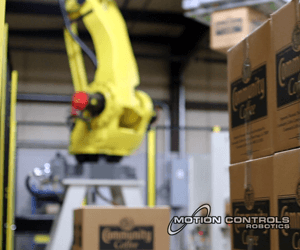 Motion Controls Robotics follows the RIA 15.06-2012 Safety Standard designed to make sure employees and robots work safely together. We take full advantage of new technologies and innovations available. This system is complete with safety fencing and every cell entry gate is equipped with safety interlock switches.

Customer Results
The customer was very pleased with the final robot cell. The cell worked perfectly in the area they had available for their end-of-line palletizing and accommodated the variety of pallet patterns they needed to fulfill orders.