Latest Integration Project Overview – Automated Material Handling – Rolls of Insulation
Motion Controls Robotics latest integration project is an automated material handling system for stacking rolls of insulation. This system was designed and integrated for a customer in the building & construction industry. The cell consists of two large palletizing robots, M-410iC/315, for picking and placing rolls of insulation. The process starts with weighing and scanning of rolls as they enter the cell. The rolls then are designated to a certain robot and stacked to meet a specific, programmed stack pattern. As the stack of rolls are completed, they index down the conveyor to the stretch wrapper and finally to an up-ender where they are picked by a clamp and transported out of the area.
Customer Challenges – Automated Material Handling – Rolls of Insulation
This building & construction customer brought us specifications for setting up this cell and issues that needed to be solved in the process.
The manufacturing process line produces dozens of SKUs, so they needed a way of being able to program a specific stacking pattern based on the SKU.
The robot had to be able to handle a wide variety of weights and sizes based on which product was being run.
They needed to meet a specific rate per minute to keep up with the process line.
The system had to have password protection, so that only qualified operators could designate product information.
Process Sequence – Automated Material Handling – Rolls of Insulation
To start, rolls exit the process line moving to the automated material handling cell.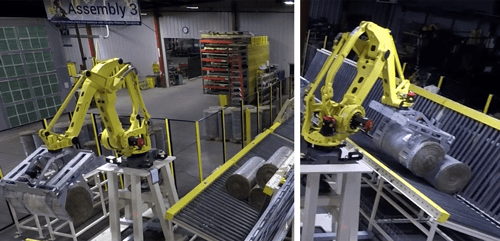 Here rolls conveyed in from this process area are weighed for quality check and designation in the system.
Next, approved rolls are conveyed to either robot #1 or robot #2 to be picked and stacked in one of four programmed patterns on a V-conveyor. If the system is running two different SKUs, robot #1 and robot #2 are sent the proper roll based on weight and SKU number.
If a roll is not next in the current stack pattern setup, the roll is placed on one of the side stands. If a roll is the not the proper size and weight, it is sent to the reject area.
Once a stack pattern is complete, the rolls index down the conveyor allowing for the next stack to be made.
When the stacks get to the end of the line, they are run through a Wulftec stretch wrapper
Finally, the stretch wrapper applies film all around the roll bundle as it moves through the wrapper and then on to the up-ender where the load is positioned vertically.
Robots and End of Arm Tooling
The FANUC M-410iC robot series is designed to handle a wide array of products. The heavier payload capacity does not impair the robot's ability to meet high rate requirements. The 4 axis FANUC M-410 series has a smaller footprint with a long reach.
M410iC/315
AXIS ROBOT – 4
REACH – 3.143 M – 10.3 ft
LOAD CAPACITY – 315 KG – 695 lbs
The end of arm tooling for picking rolls is a mechanical gripper with programable servos to adjust gripper opening distance.
Safety Features
Motion Controls Robotics follows the RIA 15.06-2012 Safety Standard designed to make sure employees and robots work safely together. We take full advantage of new technologies and innovations available. This system is complete with safety fencing and every cell entry gate is equipped with safety interlock switches.
Customer Results
This system had many upgrades but was very similar to a system we had designed and integrated for the company in the past. They were very happy with the outcome of the first system installation and saw many benefits including increased throughput and improved quality checking.
Motion Controls Robotics has extensive experience designing systems for the building and construction industry. This industry deals with large and sometimes heavy items that become burdensome and ergonomically challenging for the employees to be picking and placing. Instead, allowing robots to do the heavy lifting, trained operators manage the flow of the product in and out of the system. We have designed cells for heavy bag handling, board and flat surface handling, and of course roll handling for insulation and other items such as flooring or roofing material.