This week's article explains the benefit of adding conveyor mounted, motor starter solutions to robotic systems with conveyors. Motion Controls Robotics uses the AS-Interface for networking system controls. AS-I stands for Actuator Sensor Interface and is a distributed I/O network. It allows the connection of sensors and valves with I/O blocks attached to a flat cable that is ran throughout the robotic system. The conveyor mounted, motor starters can be integrated into this network to provide individual control over each conveyor.
These conveyor mounted solutions are beneficial throughout the life of the system:
Upfront they provide for easier installation.
During production, they reduce system downtime and production loss while increasing overall system performance.
In the future, they provide for easy replacement and expand-ability.
Finally, each controller is built to withstand the industrial environment. The enclosure is rated for IP65 and temperatures ranging from -13 to 130 degrees Fahrenheit.

Watch our video to see all the benefits and reasons to integrate the conveyor mounted, motor starter solution in your robotic system.
If you would like more information about conveyor mounted, motor starter solutions, contact MCRI using our online request form and just mention, "Motor Starters."
Motor Starter Video Transcript
Motion Controls Robotics offers conveyor mounted, motor control solutions with AS-I controlled motor starters and drives.

This unit includes a local disconnect switch to turn off power to the motor directly at the conveyor. The motor starter is connected with quick disconnect power cabling for easy installation and replacement. The conveyor mounted solutions include I/O to control sensors and actuators via the AS-I communication network.
A key switch option allows for a maintenance technician to place this unit in a local mode allowing them to jog the conveyor. By having a dedicated key switch, you can eliminate the potential hazard of an unauthorized operator jogging a conveyor locally.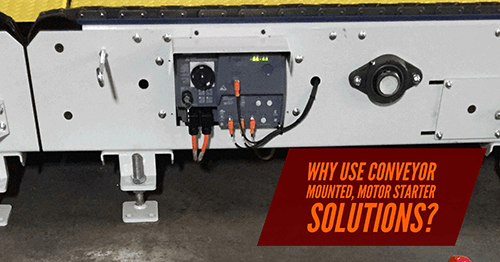 A maintenance technician can locally lock out the conveyor mounted unit when performing repairs or routine PMs. This feature eliminates the need to completely lockout large systems when servicing a single conveyor. This also helps reduce system downtime while still performing maintenance tasks safely.

With the use of our M-Tablet product (or on a standard HMI), you can receive diagnostics from the individual conveyor mounted units. If the disconnect has been left off on a conveyor mounted unit, the M-Table will display a message that the unit's disconnect is in the off position. The diagnostics can also include the position of the mode selection key switch. Once the key switch has been turned to the on position, you can see that a message is displayed on the M-Tablet HMI.