Each year new robot shipments in North America are breaking records. In the first three months of 2018, 10,730 robots were added to North American facilities (Robotic Industries Association (RIA)). The percentage of robots sold to non-automotive industries is also on the rise.
Motion Controls Robotics speaks with hundreds of manufacturers each year interested in adding robots to increase throughput, quality, employee safety, and overall productivity.
What robots are these companies looking to add to their facility?
Well, it depends on the application they need automated and the type of product being moved through the process. Below is a chart, showing percentage only, of the top 10 most popular robots needed to accomplish these various processes.
10 Most Popular Robots for Manufacturing Applications
Interested in seeing the results and what may have changed in the last 3 years? Check out our Tech Talk Article from 3 years ago The 7 Most Popular FANUC Robots.
Popular Robotic Applications
The top five applications manufacturers that come to MCRI for their system integration are looking to automate are: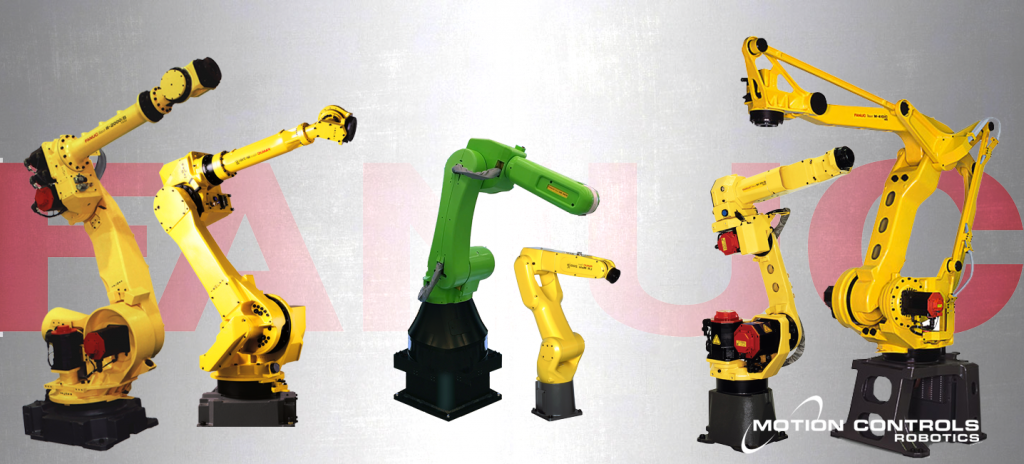 Let's take a look at reach robot to see what applications are most popular for the different FANUC models.
These small, flexible robots have a payload limit of 7kg or 15 lbs. The two most popular application we see that are perfect for the LR Mate are case packing and load/unloading.
Case Packing and load/unload continue to be the most popular applications for other smaller robot models:
were developed to perfect the palletizing operation, so while we see an overwhelming request for palletizing applications, other popular application at MCRI are board handling and roll handling.
are used for large payload jobs such as load/unload of presses and large roll handling.
has three popular applications palletizing, load/unload, and roll handling.
Finally, the R1000iA is the most diverse robot we see at MCRI with over 8 applications equally requested.
Which robot is best for your process? Motion Controls Robotics can help you decide.
Contact Motion Controls Robotics to Inquire about Robot Integration