I had spent long enough analyzing prices at the local big box store for grass seed to fill holes where Tux, our lovely neighbor dog, had burned holes in our front lawn. I selected what I felt was the best buy in a 2-1/2 pound bag and headed to the checkout counter. Before I left the aisle of fertilizer and grass seed, however, a package caught my eye that looked similar to the one I had selected. The price was significantly less expensive, so I did a quick swap and proudly headed to the checkout, patting myself on the back for finding the last minute bargain on lawn repair.
I took the package home, scratched up the scorched earth where Tux had done her thing, poured out the bag to fill in multiple holes in the front yard, and set the sprinkler to automatically water the grass every other day. Pleased with the job well done, all that was left to do was wait seven to ten days for signs of the new grass sprouts promised on the packaging.
Seven days later there was no sign of a grass sprout. Eight days, same thing. Ten days into my project, it hit me. I thought about the bag of seed/fertilizer/mulch I had purchased. It had looked very similar to the others I had carefully studied. The bag was made of the same shiny materials with the same zip lock top. It was even from the same manufacturer. But the reason it was significantly less expensive and likely the reason it was a slightly smaller package was because…there was no grass seed in it! There were no grass sprouts in my well watered lawn was because I had purchased a version of the manufacturer's fertilizer / mulch that did not include seed in the bag.
Factory automation or any capital equipment purchase can be like this. You search for a long time working with different suppliers to get your project defined. You compare prices and features, promises and benefits. You might even be working with integrators who are using robots or other components manufactured by the same company. You compare all the features and benefits and are leaning heavily to a favored supplier, but something inside you craves an even better deal. At the eleventh hour to satisfy that need you reach out for one more proposal from another integrator.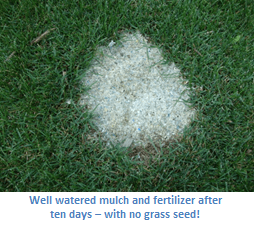 Sure enough, you hit it big with a lower price and a smooth talking sales guy who has all the right answers. You purchase the system and after some time into project implementation discover what is, or isn't actually included in the successful integrator's solution.
In the case of my fertilizer purchase the supplier of the fertilizer had done nothing wrong – I had simply not paid close enough attention to what I was buying. In other instances, advertising – for home care products as well as for factory automation – can be intentionally deceptive.
Motion Controls Robotics, Inc has been supplying robotic work cells and factory automation since 1995. Our robot solutions include functionality like well thought out fault recovery. Our robotic palletizing cells include the ability to change case sizes on the fly and add palletizing patterns without shutting down the cell. For high throughput cells where continuous operation is critical, we provide the ability for operators to exchange product or removed finished pallets without stopping the robot. In addition to fast response times for site support, we offer our customers remote support from a qualified, trained robot technician – where we can log into their cell controls and analyze the state of their system via the internet in real time.
Motion Controls Robotics, Inc is a WYSIWYG company – what you see is what you get. You can be confident we will never try to pull a fast one on you with deceptive presentations or advertising. We promise to do our best to communicate all the details of what you will – and won't – be getting in any factory automation solution we provide.
Contact a sales representative from Motion Controls Robotics at 419.334.5886 in Fremont, OH for your next robotic palletizing, case packing, pick and place, or other material handling or warehouse automation project.
By the way, I talked with the neighbor about having his dog do her thing in other places along their walk – an ounce of prevention is worth a pound of cure!